GET THE BECOMING BOSS BUNDLE FOR $4300 FREE
FOR FIVE DAYS ONLY
EVERY YEAR WE PUT TOGETHER A BUNDLE OF RESOURCES TO HELP YOU GROW YOUR ONLINE BUSINESS...AND WE GIVE IT AWAY FOR FREE.
HERE'S A SNEAK PEEK AT SOME OF THE GIFTS...
Profit Explosion Bundle ($197)
BFF: Plan, Map, and Perfect your Customer Journey ($97)
Steals My SOPs! ($49)
Treasure Chest For Business & Blogging ($49)
Your Profitable + Scalable Systems Toolkit ($49)
Blogging for SEO ($49)
The EPIC Guide to Organic Course Sales ($49)
Simplified Hiring Toolkit ($97)
The Step-by-Step Business Plan ($49)
Small Business Quick Fix ($97)
Deliver It Like a Teacher ($97)
Automate Your Kajabi Funnels ($97)
Stop Writer's Block Action Pack ($70)
Homepage Hero Copy Template & Video Tutorial Suite ($97)
Beginner Writers' Workshop ($49)
365 Engagement posts ($60)
Copyright Infringement Template Bundle ($67)
Business Finance Tracker ($49)
GDPR Step by Step ($67)
The Tax Deductions Playbook ($97)
Retreat Budgeting Like a Boss ($97)
Make More Money Week ($49)
Revenue Planning Workshop ($79)
Disclaimers Template ($67)
Testimonial Release ($95)
Small Business Starter Kit ($49)
Discovered & In Demand + Our Instagram Story Prompts for Sales ($97)
Creating an Attraction Storytelling Framework ($49)
Social Media Canva Templates Bundle ($49)
High Converting Canva Templates Bundle ($97)
Confidently Canva ($57)
Money by Design Vol 10 ($67)
Create Your Signature Method Masterclass ($47)
Kickstart Your Email 3 Day Challenge ($97)
How to Create a Thriving Facebook Group Full of Your Ideal Clients ($97)
Challenge 3 Days to Attract Your Dream Clients (and Make More Sales!) with Stunning Phone Photos ($52)
Content to Clients Course ($197)
Supercharge Your Confidence and Self-Esteem ($49)
The What, Why, and How of EFT Tapping ($199)
Dream Goals Done ($49)
Quantum Leap Your Biz in 2023 ($97)
Quantum Leap: 31 Days To High Performance ($97)
Build Your Pinterest Funnel ($97)
The Social Playbook ($97)
3 Parts of a Profitable Pinterest Marketing Funnel Mini Course ($47)
Ignite Your Business with Social Media ($49)
Time Management and Productivity Hacks for Solopreneurs ($97)
Business Learning and Course Hub for Notion ($49)
Ultimate Business Organizer Bundle ($47)
Time Blocking Toolkit ($67)
The Digital Course Jumpstart ($97)
Flash Sale in a Flash Templates ($97)
Get Paid to Create ($49)
Build A Gorgeous Brand with Stock Photos ($200)
Easy Printable Creation ($49)
The Botanical Course Slide Deck ($75)
TOTAL VALUE INSIDE THE BUNDLE IS OVER $4,300
AVAILABLE FREE THIS WEEK ONLY
DROP YOUR EMAIL TO RECEIVE THE BECOMING BOSS BUNDLE FOR FREE ($4,300 value)
THE BECOMING BOSS BUNDLE FEATURES SOME OF THE BEST COACHES IN THE BUSINESS...
Andrea Frey
Andrea Vetter
Becky Moffit
Cait Blakley
Caroline Vencil
Cheryl Rerick
Cora Williams
Cora-Lynn Hazelwood
Courtney Fanning
Cousett Hoover
Domitille Sia
Dr. Destini Copp
Elizabeth Stapleton
Emilie Gomez
Erin Morris
Faith Mariah
Flora Rubingh
Gianni Logan
Heather Ritchie
Holly Haynes
Isabel Monte
Jacqui Acree
Jami Johnson
Jasmine Hunt
Jasmine Myers
Jenny Melrose
Jessica Haines
Jillian Ferraro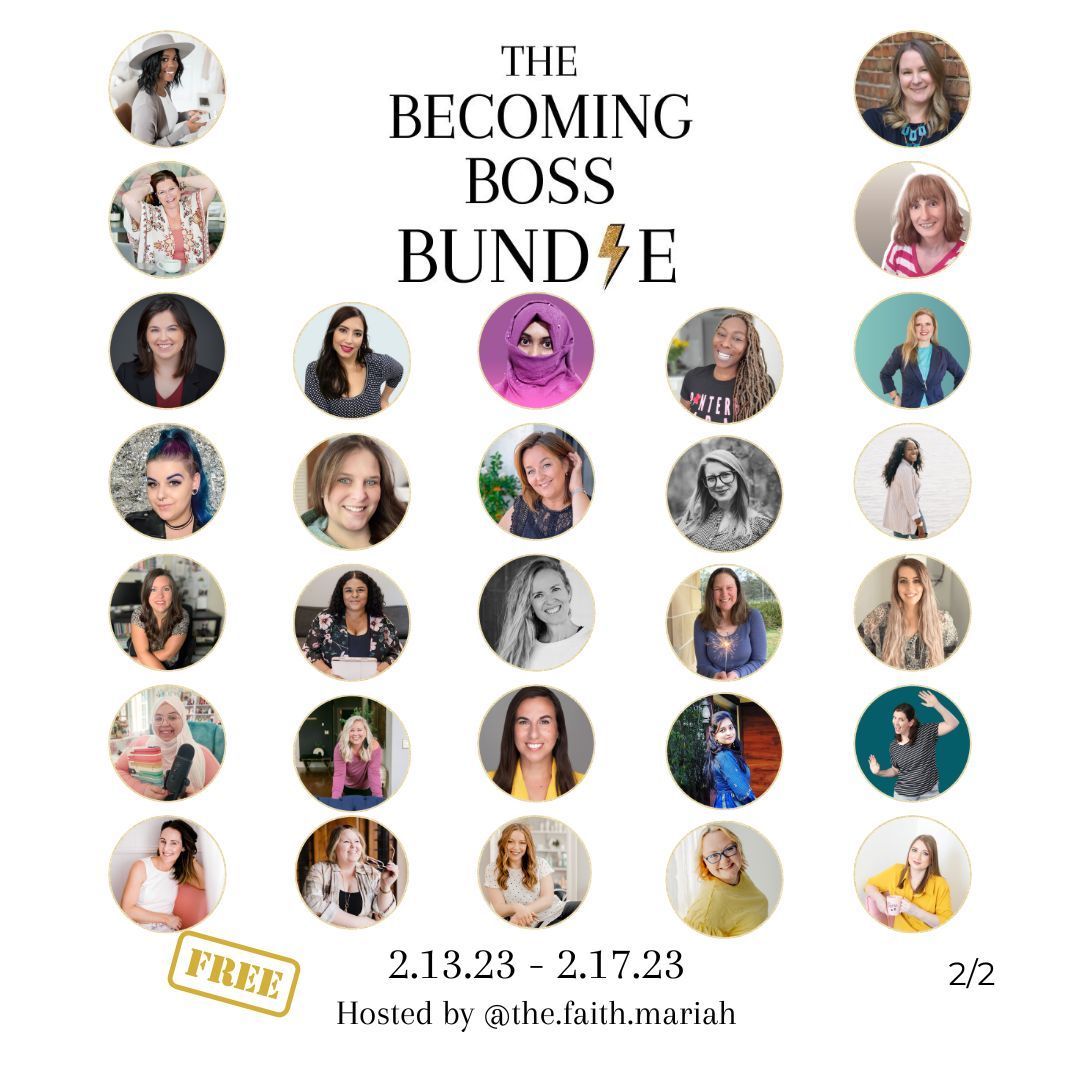 Julie C Butler
Karina Gafford
Karleigh Saunders
Kate Danielle
Kelsie Bentley
Kenz Soliman
Kylie Kelly
Lani Jackson
Leeann Forbes
Lindsey Regel
Lucrezia Iapichino
Megan Griffith
Michelle Murphy
Monica Monfre
Natalia Hooker
Nusrat Jahan
Petra van der Wal
Precious Rodgers
Rebekah Lara
Sarah Becker
Sarah McLean
Sonia Motwani
Tara Reid
Tara Vicars
Tascha Goovaerts
Theresa Forever
Tonia Kendrick
Viktoria Thorbjorn
DROP YOUR EMAIL TO RECEIVE THE BECOMING BOSS BUNDLE FOR FREE ($4,300 value)
THE BECOMING BOSS BUNDLE ENDS IN...
DROP YOUR EMAIL TO RECEIVE THE BECOMING BOSS BUNDLE FOR FREE ($4,300 value)